STEM – Science, Technology, Engineering, & Math
The acronym STEM stands for Science, Technology, Engineering, Arts and Mathematics.  It is the process of teaching that integrates these four disciplines to promote real-world experience, teamwork, and the authentic application of technology.
STEAM also promotes discovery, problem-based learning, and project-based learning.  The National Science Foundation and the U.S. Department of Education support STEAM, and our future depends on our ability to boost student performance in science, technology, engineering, and mathematics.  Young people face stiff competition for jobs from people across the world, and to succeed in the global economy, students will need a much stronger foundation in STEM subject areas.
Our STEAM Activities Highlights
---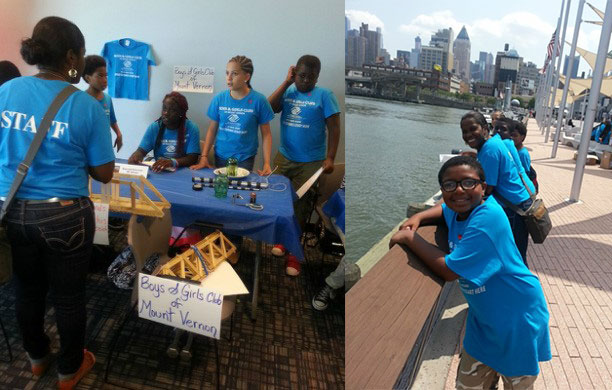 STEAM at the Intrepid – Club Members prepared for and participated in Time Warner Cable's Connect a Million Minds (CAMM) Science, Technology, Engineering, and Math (STEM) based initiative, and were invited to demonstrate what they had learned during a celebration at the Intrepid Sea, Air & Space Museum.
The program's organizers and supporters unveiled a huge cake of CAMM's robot mascot.  The cake depicted different activities the students were involved in during the Summer.  Club members were also taken on an exclusive tour of the Intrepid.