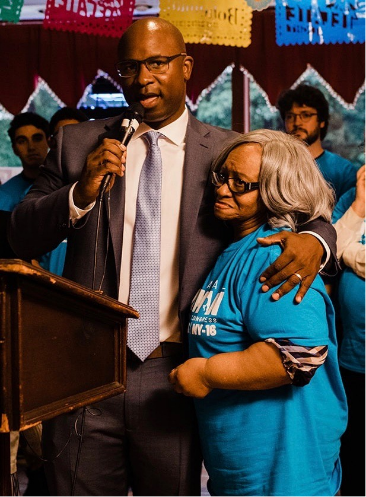 Mount Vernon, New York – February 19, 2021 – The Boys & Girls Club of Mount Vernon has announced they have developed a memorial fund in the name of Ms. Pauline Bowman, who passed away Wednesday due to Covid-19. Ms. Bowman was the mother of U.S. Congressman Jamaal Bowman (D-Yonkers). This memorial is created in-lieu of flowers, that will support the young scholars of Boys and Girls Club of Mount Vernon, and to help ease the traumatic impact the pandemic has caused young people in the city.
"Congressman Bowman's generosity and thoughtfulness will help continue our much-needed Dinner Program, Community Clothing and Food COVID Relief Program, and Summer Feeding Program, where we will be able to continue feeding our youth with healthy nutritious meals throughout the school year and during the summer," said Mel Campos, CEO, Boys and Girls Club of Mount Vernon.
Ms. Pauline Bowman was born September 16, 1944 and was the only child of the late Theodosia Baker and the late Emanuelle Klein. She was raised in Harlem where she attended public schools and graduated from Commerce High School during the heart of the Civil Rights Movement. She went on to work for the United States Postal Service in 1965 and retired in 1999 after years of service. She raised four children on the upper east side of Manhattan, where she always instilled love, strength, courage, and pride in her children. Ms. Bowman leaves behind four children, and five grandchildren to continue her legacy of hard work, family and love.
"I am saddened by the passing of Ms. Bowman, and while we regret the news, we are so grateful to her son Congressman Bowman for his incredible generosity to help our young scholars here in Mount Vernon," said Dr. Traci Alexander, Director of Development of the Boys and Girls Club of Mount Vernon.  She added, "We look forward to growing our relationship with people like our Congressman to develop the resources we need to help the youth in this special community realize their potential for a great future."
All contributions to the  Ms. Pauline Bowman Boys & Girls Club of Mount Vernon Memorial Fund will be utilized to support the youth of Mount Vernon.
---
Contribute to the Ms. Pauline Bowman Memorial Fund
---
For more information, contact: Dr. Traci Alexander email talexander@BGCMVNY.org or tel: 917-553-7782.
About Boys & Girls Club of Mount Vernon
The Boys & Girls Club of Mount Vernon offers after school, teen, and summer programs for over 800 youth in the Mount Vernon community, and serves over 1,400 through a variety of other programs to help them learn and grow in a safe, fun, educational environment. Every day, their dedicated, highly trained staff and volunteers serve youth members with a wide variety of engaging, interactive activities and programs, to help them improve their self- esteem, develop positive values, and achieve their highest potential in academic success. The mission of the Boys & Girls Club is to develop today's youth into tomorrow's leaders. For more information, contact Mel Campos, Chief Executive Officer tel: 914 668-9580. email: mcampos@bgcmvny.org or visit bgcmvny.org.